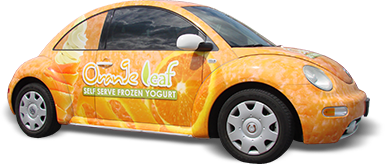 Can You Actually Get Paid To Wrap Your Car?
We are often approached by customers wanting to know if they can get paid to wrap their car. The thought of getting money just to drive around seems like a dream come true! Unfortunately, for the most part, it is just that- a dream.
There a few legitimate car wrap advertising companies. The pay is around $100-$500 and month and is based on the size of the wrap and how many miles you log per month. There are also a lot of scams involving people claiming to pay you to wrap your car and simply drive around as you normally would. These companies generally target larger cities and there are few to zero campaigns available to driver in the Utah market.
There are currently known and reported scams specifically targeting college students. The scam basically works like this: You get an email or are contacted out of the blue by someone saying they will pay you $250-$500 a week to wrap your vehicle with an advertisement for a well known product or event.
If you agree, they will send you a check to deposit into your bank account. Once the check is deposited, they will ask you to use a portion of the money to pay a fake specialist to install the advertisement wrap on your vehicle. They will ask you to pay this fake specialist by sending a money order or by making a deposit into a bank account.
Many people don't realize they've been scammed until the original check that they deposited into their account bounces and no wrap ever materializes. The victim of the scam is now out the money they paid for the fake wrap.
Several victims of this scam have reported it to the FTC and BBB. The BBB has received nearly 600 reports involving car wrapping scams in the United States over the past 5 years.
If someone is asking you to send money before you can earn money it is almost always a scam When in doubt, look up reviews for the company in question, check with the BBB, look for a website, and find them on Facebook.
While the majority of the wraps we design and install are for businesses and advertising, the companies are usually wrapping their own vehicles. A vehicle wrap allows the company to advertise and gain visibility while their employees drive around, with the added bonus of their employees parking their car, truck, or van in the very neighborhoods and cities the company is trying to market to.
With that being said, if something sounds too good to be true, it usually is. If you decide to pursue getting paid to wrap your personal vehicle, be sure to do your research and find a reputable company. Once you've done your research, Queen of Wraps is happy to provide our design and installation expertise to get you started.
[/vc_column_text][/vc_column][/vc_row]
*Post updated October 9, 2020. Original post published on May 21, 2019.