How Can A Vehicle Wrap Help My Service Company Grow?
Think about why you entered into the service industry. Perhaps you come from a family of plumbers. Maybe you like to be involved with new construction and electrical work was your chosen path. Or did you just need a job and now 20 years later, you are the head of your own heating and air conditioning contractor? Whatever your reason for joining one of these groups, it is possible that you enjoy the work more than you do thinking about advertising for the business.
Generating leads for a service company is the key to growing a business. Oftentimes we meet with companies who rely on word of mouth and referrals for their new leads. While this can certainly generate leads, it is very unpredictable and leaves the future growth of your company outside of your control. Some other simple strategies you can use to put lead generation in your direct control will yield better results in the long run.
Online Lead Generation
Do you have a website? That is a good start! Now you need to direct customers to the site and capture their information using lead forms. This can be accomplished simply by creating a Google AdWords campaign and sending paid traffic directly to a lead form on your site. Does that seem out of your expertise? I promise that after a little self-education and some Googling, you can create your first campaign all on your own. However, if you feel like you would like to work with an expert, some good digital marketing agencies in Utah are Epic Marketing, and Sebo Marketing. Both will be able to give you a good walk through of how to use digital marketing to enhance your lead generation.
Point of Service Advertising
Chances are that the neighborhoods you visit on a daily basis are full of your potential customers. On average, a customer needs to have 7 encounters with your brand before they consider using your service. You can increase your touch points with customers in the neighborhood by using things like fleet vehicle wraps to place a billboard in a neighborhood during the duration of your service call. After you leave, you can place a yard sign in the customer's front yard explaining who you are and what services you perform. Yard signs will generally be left up for 3-4 days after the service. A good source for yard signs can be directly through your Queen of Wraps sales representative or through our sister company Loud Printing. Finally, targeted direct mail in the neighborhood you serviced can add another touch point to the potential customer. Queen of Wraps has relationships with a few Utah direct mail companies and we can help direct you to a good one for your needs.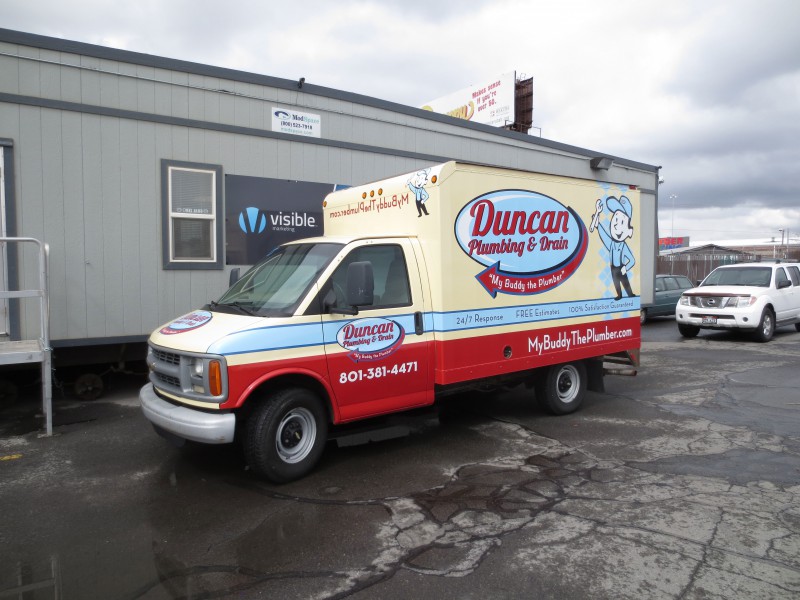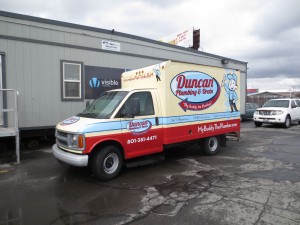 Mass Market Advertising
It is no secret who is spending money in Utah mass market advertising. Companies like Any Hour Services, Same Day Heating and Air, and Whipple Services are constantly on the radio and TV. Creating general awareness of your services can be an effective strategy. If you are interested in using traditional mass media advertising services, we can help connect you with a few different radio and television stations.
Conclusion
Marketing is not a one time activity. It takes sustained efforts as well as using varied tactics to reach your potential customer. While we would love to say a vehicle wrap is the only advertising tool you need, in reality, it is just one piece of a healthy overall marketing mix. If you are looking for more direction with marketing your service company, feel free to reach out and we can help connect you with the right companies and products to generate more leads and sales for your Utah service company.