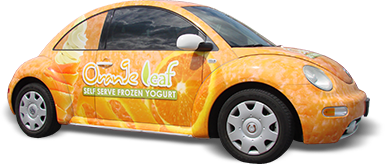 Vehicle Wrap in Utah – 5 Tips on Preparing for a Consult
Deciding on a vehicle wrap in Utah involves several variables that should always be considered. Our design team is equipped to be able to assist you with creating the most effective advertising for you and your business, but it requires the thought and expertise of the business owner in order to do so.
Consider different styles and what you like best: Queen of Wraps offers several different vehicle wrap advertising options, including: full service, half, 3/4, and partial wraps as well as color changes. Although there are several different variations of each wrap option, having an idea of what type of coverage you're looking for on your vehicle will help with getting the design process started and moving smoothly.
Do your industry research: Not only does it help to have a style in mind, but it also helps to know what type(s) of design perform best in your industry. What is the competition doing? Are they using abstract design? Cartoony design? Stock photography with real people? Being aware of what your competitors are doing and their effectiveness will help us design and make additional recommendations.
Bring your vehicle: If it is possible, bring the vehicle that you're planning on wrapping to the consult. Having the vehicle present will give the designer and installers the ability to inspect it and determine if there are going to be any areas on the vehicle that will cause a problem (rust, dents, etc.). There are workarounds for these types of things, but it is helpful for the designer to know about them up front so that they can plan the design accordingly. It will also help the designer visualize placement of graphics in relation to door handles, windows, mirrors, and other items that will need to be considered in the overall design and strategy.
Bring your brand files: If you have an existing brand or style guide, bring this with you to the consult. This will help your designer get a taste for your brand's look and feel and they will be able to better visualize the art direction. Eventually they will need files from you and the sooner they can get them, the better. Make sure that your files are high resolution and in the proper/useable format for the designer. Having these in the beginning will help speed up the process tremendously.
Communicate with your designer: Vehicle wraps last for up to 5 years! We want to make sure that you love your vehicle wrap for the entire 5 years. Communicating with your designer will ensure that the finished product is exactly what you want. Don't be afraid to ask questions and know that it is okay to not like something. Your designer will be an expert with ample experience in the design industry and will most likely have good reasoning behind how they design your wrap, but be sure to speak up if there are elements you dislike or are unsure about.
Coming prepared to your consult will help get things started quickly and in the right direction. If you're considering a new vehicle wrap, be sure to check out all of the auto vinyl graphics options that Queen of Wraps has to offer.