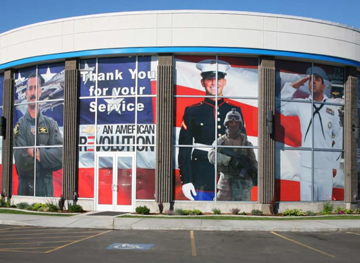 What types of objects can be wrapped?
Oftentimes, people approach us with the question "Can you wrap…?". Generally, our answer is a resounding "YES!".
Vehicle wrap material is specially designed to adhere to smooth surfaces. This can be anything from a car to a painted interior wall. Additionally, we have other vinyl materials that are made to stick to almost anything you can think of.
With these different types of materials, the Queen of Wraps crew has performed some very impressive work. Take, for instance, our recent window wrap project at Young Chevrolet in Layton, UT. This massive window area was covered using our perforated view thru material. This window film allows a full color print on one side while still allowing total visibility from the other side. This is a very popular building wrap option for offices with lots of sun coming through the windows as it will help keep the temperature more constant.
Another recent project the Queen of Wraps team work on was creating some product replicas using vehicle wrap vinyl and sheet metal. Our customer Haust Energy came to us with the task of creating giant versions of their energy drink product. To accomplish this, we wrapped metal cylinders with vinyl printed with the same design as the product can. The result was a great looking product replica that looks so real you could drink out of it!
The world is full of things that can be wrapped. If you have a new product idea or invention, we would love to help you produce something new!